Mitraclip gets the go ahead from NICE

An important step forward in therapy for people with mitral regurgitation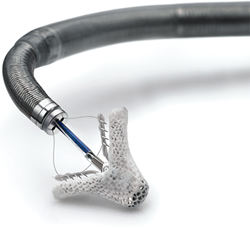 NICE press release 6th December 2018
Starts
An innovative minimally invasive procedure to repair a heart valve has been approved for use in the NHS for patients who would otherwise be unable to have conventional open heart surgery.
Until now the only option for patients needing a mitral valve repair was open heart surgery which for some older and frail patients would be considered too risky.
But in draft recommendations, NICE has given the go-ahead for a procedure – which sees the mitral valve repaired without the need for a major operation – to be made more widely available across the NHS in England.
With the patient under general anaesthesia, a surgeon uses ultrasound to pass a stainless steel clip through a vein in the groin into the mitral valve inside the heart.
The clip is attached to the leaflets (flaps) of the mitral valve to help it close more completely. The aim is to improve symptoms and quality of life. The patient is usually sent home after an overnight stay in hospital.
Only patients whose risk from an open procedure is too high should be considered for the procedure which must be undertaken by an experienced teams of clinicians working in specialist centres. Data on the outcomes must also be collected and carefully analysed.
Read More of this press release by NICE here
The Pumping Marvellous Foundation absolutely support this step and see it as a game changer in how patients with mitral regurgitation are treated
Visit PMTVLive – The Pumping Marvellous Foundations YouTube channel
Visit Heart Failure Aware – The Pumping Marvellous Foundations awareness page
If you need help and you have heart failure or you are a carer of family member with heart failure come and join our marvellous heart failure community on Facebook
To learn about heart failure go to this link
Need patient information – visit this link to our marvellous library