Heart Failure Nurse Audit Data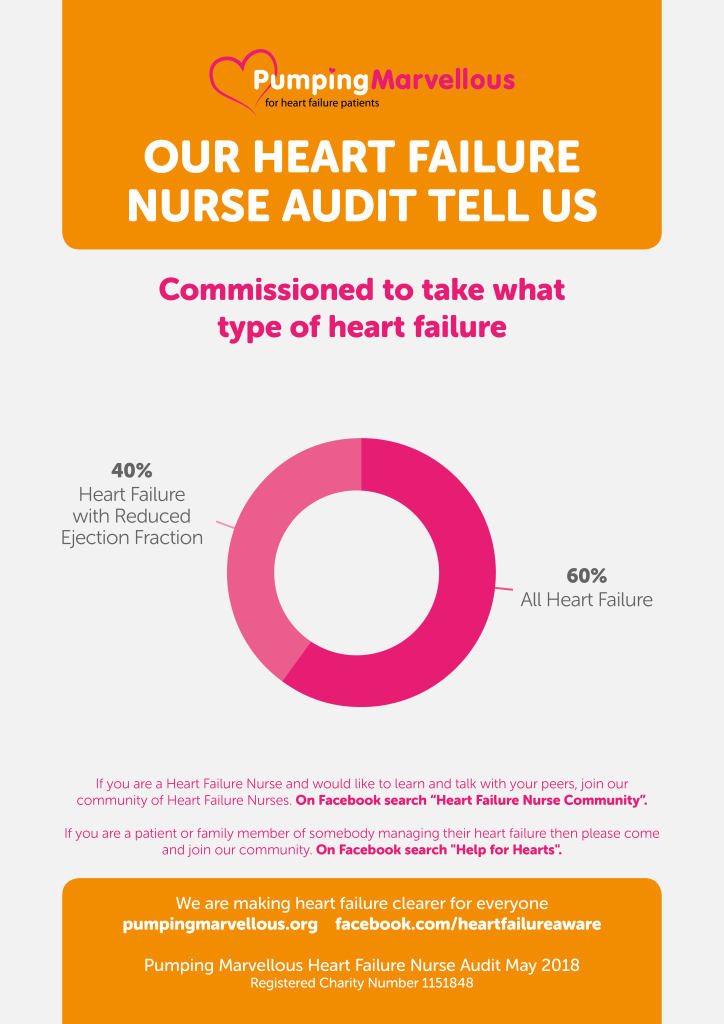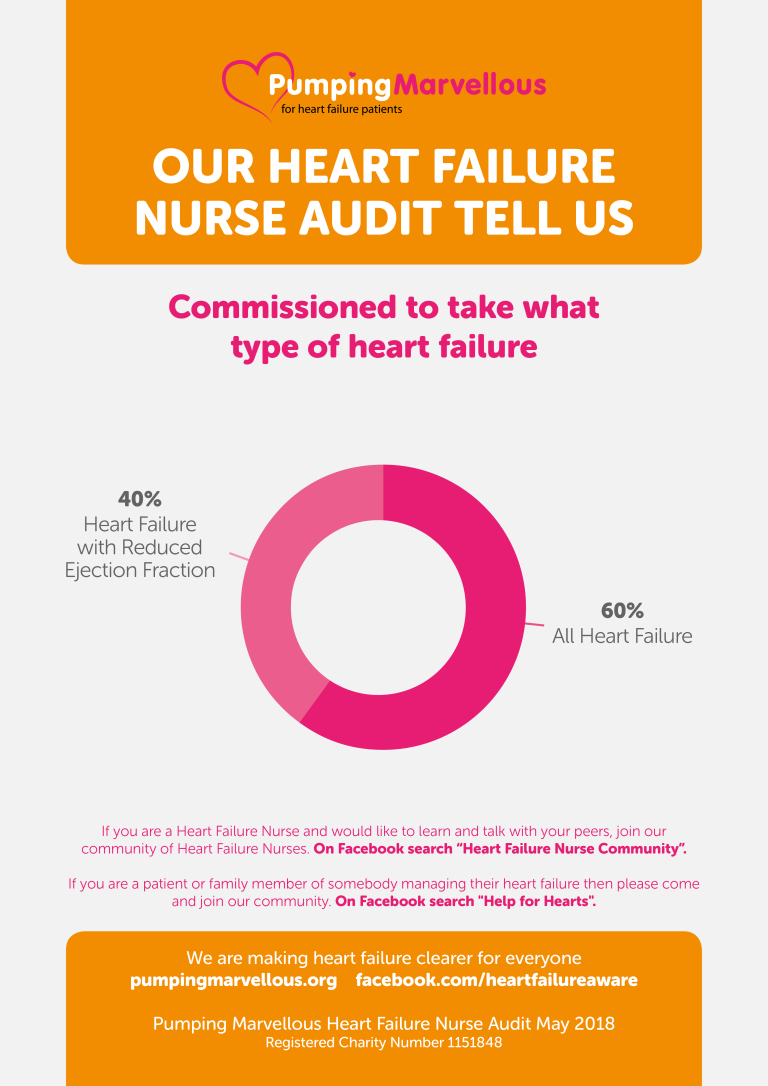 Heart Failure Nurse Audit Data
The Pumping Marvellous Foundation has just finished completing the first national audit of the provisioning of heart failure nurse services across the UK.
The Pumping Marvellous Foundation is beginning to release the heart failure nurse audit data to coincide with heart failure awareness week. The Foundation knows that patients and their carers repeatedly tell us about their marvellous heart failure nurse and how important they are. Indeed, the All Party Parliamentary Group inquiry into heart failure in September 2016 raised the significance of the role that is played by the heart failure nurse. At the same time, they acknowledge that there is no national definition of a heart failure specialist nurse, how many nurses there are or where these nurses work, the skills or experience that is required for the role, and just what services teams are offering. The Pumping Marvellous Foundation decided to catalyse the discussion and advocate for heart failure nurses as the patients rated them as the most important member of the heart failure MDT. We also know of the benefit they bring to patient clinical outcomes and the prevention of hospital readmissions. We decided with a hands off educational grant from Boston Scientific, who had the foresight to see our need to design, deliver and disseminate our findings through the Heart Failure Nurse Audit.
Lynda Blue who sits on our clinical team and was the first heart failure specialist nurse in the UK, says
'It is important in this economic climate with stretched NHS Services that Heart Failure Nurse Specialists audit their role/service on a regular basis to ensure their roles are both sustained and to support a further business case if additional nurses are required for the service. The audit data collected should be able to demonstrate the positive impact the role has on a HF patient's journey'
Over the coming weeks we will be revealing some of the heart failure nurse audit data to demonstrate the need to invest in, not just heart failure but specifically heart failure nurses.
Later in the month we will be launching our brand new platform which will be available to all stakeholders, especially patients so they can find out where these heart failure nursing teams exist and what services they offer.
Here is the first snapshot of data –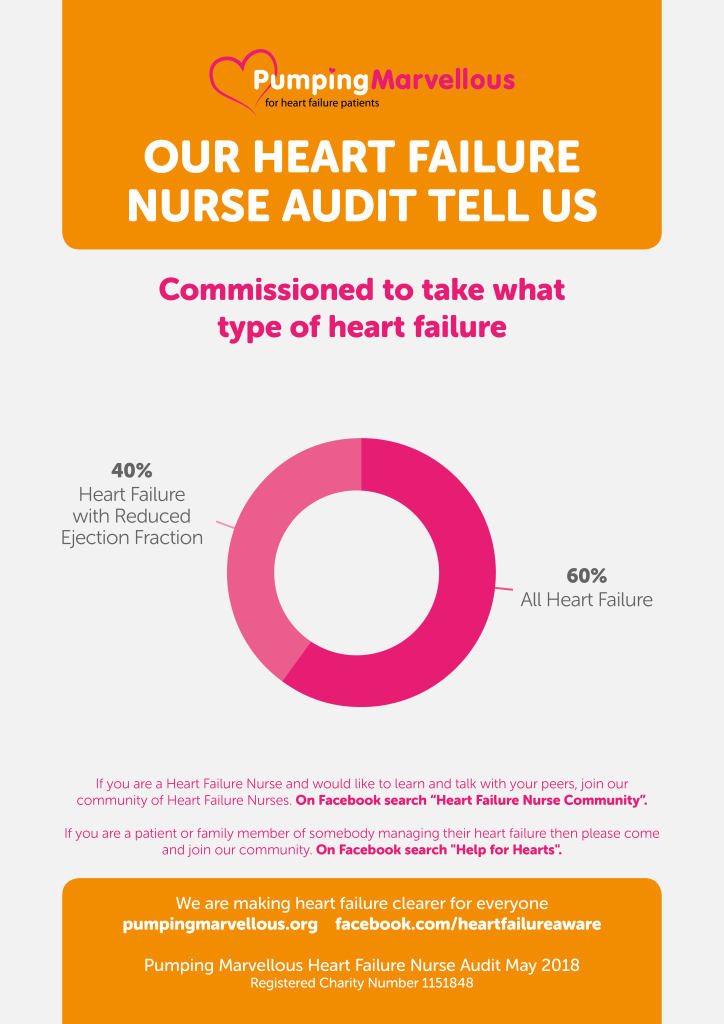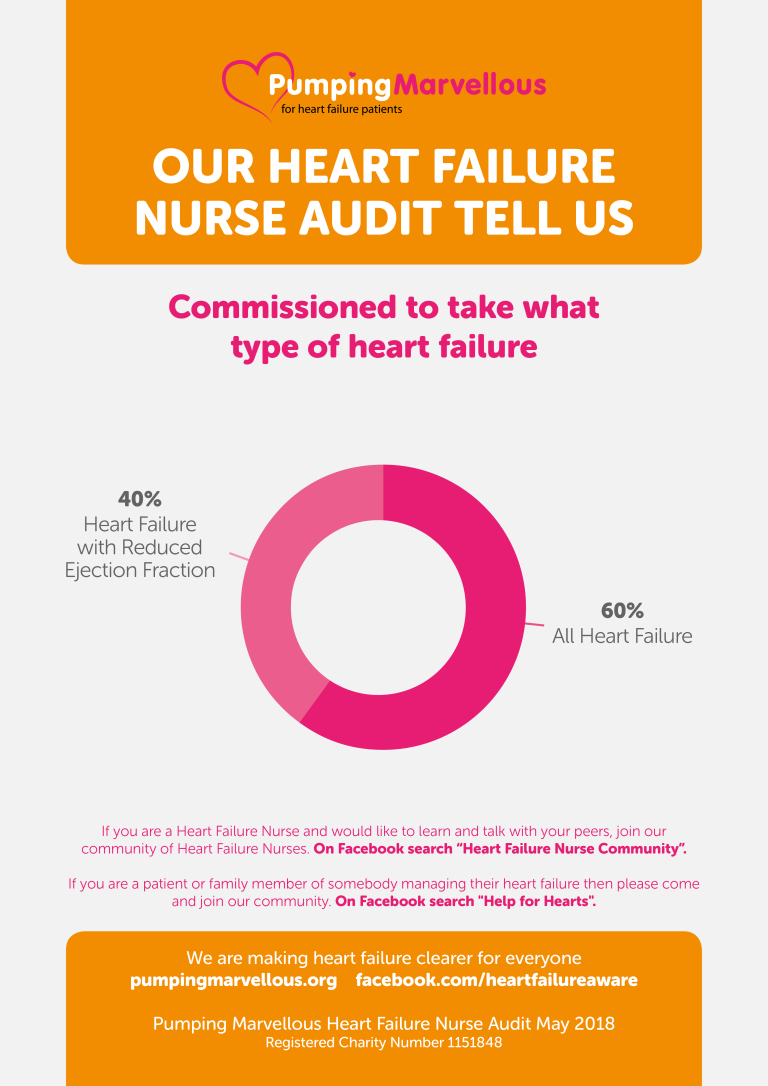 Visit PMTVLive – The Pumping Marvellous Foundations YouTube channel
Visit Heart Failure Aware – The Pumping Marvellous Foundations awareness page
If you need help and you have heart failure or you are a carer of family member with heart failure come and join our marvellous heart failure community on Facebook
To learn about heart failure go to this link
Need patient information – visit this link to our marvellous library