Empagliflozin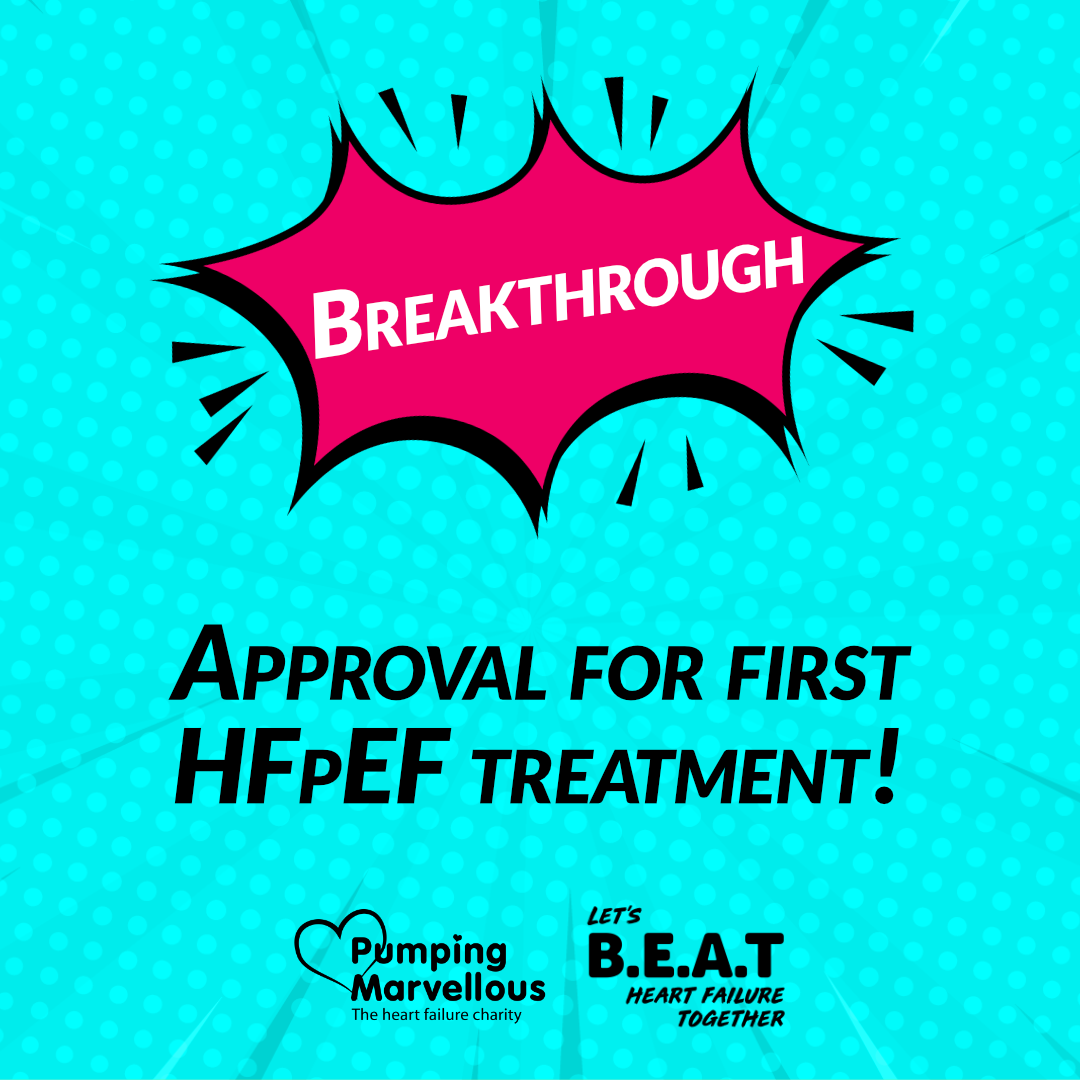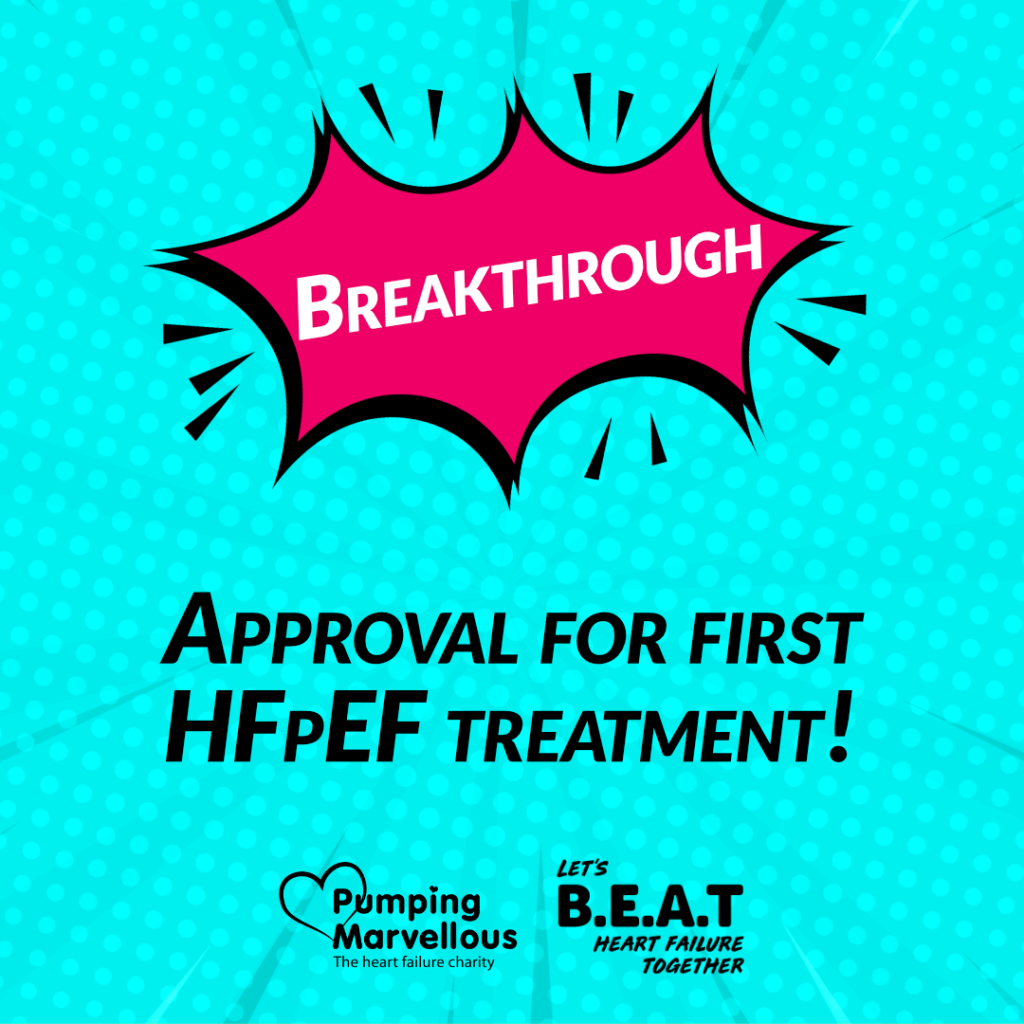 First drug to treat 'full spectrum' of chronic heart failure approved by UK regulator:
Empagliflozin is the only licensed treatment for adults with symptomatic chronic heart failure with preserved or reduced ejection fraction

Bracknell, UK, 14 June 2022 – The UK medicines regulator has approved empagliflozin as a treatment for adults with symptomatic chronic heart failure. For the first time this extends the possibility of treatment to all adults with heart failure symptoms, including those with heart failure with preserved ejection fraction (HFpEF). Until now, there were no licensed and clinically proven treatments for HFpEF in the UK, which accounts for around half of all heart failure cases, and has been described as the single largest unmet need in cardiovascular medicine.[i],[ii],[iii],[iv]
"This approval is a genuine watershed moment and positive news because for the first time there is a beneficial treatment approved for people with heart failure with preserved ejection fraction, known as HFpEF," commented Nick Hartshorne-Evans, CEO of the Pumping Marvellous Foundation, the leading heart failure patient organisation. "Heart failure is progressive and if not effectively treated has a higher mortality than common cancers. Symptoms of breathlessness, tiredness and fluid build-up within the body have a hugely detrimental impact on people's quality of life. It is essential that those living with heart failure have effective treatment options to address the significant impact it has on their daily lives."
This breakthrough approval by the Medicines and Healthcare Products Regulatory Agency (MHRA) in the UK means that empagliflozin becomes the first approved treatment for all forms of symptomatic chronic heart failure, including HFpEF, due to its effect on reducing the likelihood of people with heart failure to be admitted to hospital or die from cardiovascular causes.[v],[vi]
About heart failure
Heart failure affects 920,000 people in the UK.[vii]
It occurs when the heart does not pump blood around the body as effectively as it should.[viii]
Heart failure incidence is similar to the four most common cancers combined – breast, prostate, lung and bowel cancer.[ix]
Outcomes can be poor – about 50% of people with heart failure die within five years of diagnosis, therefore early diagnosis and access to heart failure specialist care and treatment are essential.[x]
Heart failure is one of the leading causes of avoidable hospitalisations in UK. The disease has a huge impact on patients and their families, and adds to the immense pressures facing the NHS.11
Hospital admissions for heart failure have risen by almost a third in five years in England.[xi]
"Until now there were no approved treatments that can improve outcomes or reduce the likelihood of heart failure hospitalisations for patients across the full spectrum of heart failure, including HFpEF," commented Professor Simon Williams, Past Chair of The British Society for Heart Failure, the professional association for heart failure care in the UK. "The MHRA approval marks a turning point in the management of heart failure and has the potential to change clinical practice for the thousands of people in the UK affected by this debilitating and life-limiting condition."
Dr Douglas Clark, Head of Medical Affairs at Boehringer Ingelheim UK & Ireland added: "Heart failure is a serious and challenging disease to treat. Around a half of all cases are HFpEF, which for too long had a lack of approved and effective treatments. The Boehringer Ingelheim and Lilly Alliance aims to bring innovation to patients with cardio-renal-metabolic disease and advance the treatment of heart failure. We hope the approval of empagliflozin will be transformative for clinicians and those living with this severe, long term condition."
– ENDS –
Notes to editor:
 More about heart failure
Heart failure is a chronic, long term and potentially fatal condition. Symptoms can be debilitating and include breathlessness, ankle swelling and extreme fatigue. Due to the progressive nature of heart failure, many people eventually struggle with simple everyday tasks, such as household chores or walking short distances.11
Types of heart failure
There are different types of heart failure. Heart failure with preserved ejection fraction (HFpEF) occurs when the left ventricle of the heart is unable to relax and properly fill with blood, resulting in less blood being available to be pumped out to the body. Heart failure with reduced ejection fraction (HFrEF) is when the left ventricle of the heart is not able to contract effectively, therefore the heart cannot pump with enough force.[xii] HFpEF is more likely to affect women than men;[xiii] its prevalence is increasing, mainly due to an ageing population, however its prognosis has not improved.[xiv]
Heart failure diagnosis
The sooner someone is diagnosed with heart failure, the sooner they can access treatment to help improve their quality of life and prognosis. If someone has the symptoms of heart failure, such as breathlessness and tiredness, their GP may perform some tests. If these tests suggest that they may have heart failure, the GP will refer to a specialist heart failure team.[xv] The COVID-19 pandemic has affected the diagnosis of heart failure: a recent British Heart Foundation report found that 66% of people with a heart condition avoided accessing care during the pandemic and there were an estimated 23,000 missed diagnoses of heart failure in England.[xvi]
Heart failure treatment
Treatment guidelines recommend an angiotensin-converting enzyme (ACE) inhibitor and a beta‑blocker licensed for heart failure, or an angiotensin II receptor blockers (ARB) licensed for heart failure as an alternative to an ACE inhibitor for people who have HFrEF and intolerable side effects with ACE inhibitors.[xvii] SGLT2 inhibitors are recommended as an add-on to standard of care for symptomatic chronic HFrEF in adults.
About Cardio-Renal-Metabolic Conditions
The cardiovascular, renal and metabolic systems are interconnected, and share many of the same risk factors and pathological pathways along the disease continuum. Dysfunction in one system may accelerate the onset of others, resulting in progression of interconnected conditions such as type 2 diabetes, cardiovascular disease, heart failure, and kidney disease, which in turn leads to an increased risk of cardiovascular death. Conversely, improving the health of one system can lead to positive effects throughout the others.[xviii],[xix]
 Boehringer Ingelheim and Lilly are driven to help transform care for people with cardio-renal-metabolic conditions.
Through our research and treatments, our goal is to support people's health, restoring the balance between the interconnected cardio-renal-metabolic systems and reducing their risk of serious complications. As part of our commitment to those whose health is jeopardised by cardio-renal-metabolic conditions, we will continue embracing a multidisciplinary approach towards care and focusing our resources on filling treatment gaps.
 About Boehringer Ingelheim and Eli Lilly and Company
In January 2011, Boehringer Ingelheim and Eli Lilly and Company announced an Alliance that centres on compounds representing some of the largest diabetes treatment classes. Depending on geographies, the companies either co-promote or separately promote the respective molecules each contributing to the Alliance. The Alliance leverages the strengths of two of the world's leading pharmaceutical companies to focus on patient needs. By joining forces, the companies demonstrate their commitment, not only to the care of people with diabetes, but also to investigating the potential to address areas of unmet medical need.
 About Boehringer Ingelheim 
Boehringer Ingelheim is working on breakthrough therapies that transform lives, today and for generations to come. As a leading research-driven biopharmaceutical company, the company creates value through innovation in areas of high unmet medical need. Founded in 1885 and family-owned ever since, Boehringer Ingelheim takes a long-term perspective. More than 52,000 employees serve over 130 markets in the three business areas, Human Pharma, Animal Health, and Biopharmaceutical Contract Manufacturing.
 About Eli Lilly and Company 
Lilly is a global health care leader that unites caring with discovery to create medicines that make life better for people around the world. We were founded more than a century ago by a man committed to creating high-quality medicines that meet real needs, and today we remain true to that mission in all our work. Across the globe, Lilly employees work to discover and bring life-changing medicines to those who need them, improve the understanding and management of disease, and give back to communities through philanthropy and volunteerism.
Contacts:
Josephine Ruiz

BCW Global
Email: josephine.ruiz@bcw-global.com

Mob: 07590 436837

Andrew Nye

Boehringer Ingelheim

Email: andrew.nye@boehringer-ingelheim.com

Tel: 01344 744728 | Mob: 07768 023350
[i] Dunlay SM, Roger VL, Redfield MM. Epidemiology of heart failure with preserved ejection fraction. Nature Reviews Cardiology.2017;14:591-602.
[ii] Butler J et al. Developing therapies for heart failure with preserved ejection fraction: Current State and Future Directions. JACC Heart Fail. 2014;2(2):97–112
[iii] Bhatt D et al. EMPEROR-Preserved: A promise fulfilled. Cell Metab. 2021;Nov 2;33(11):2099-2103.
[iv] Gevaert AB et al. Heart Failure With Preserved Ejection Fraction: A Review of Cardiac and Noncardiac Pathophysiolog. Front Physiol. 2019;10:638.
[v] Anker SD et al. Empagliflozin in heart failure patients with a preserved ejection fraction. NEJM. 2021;385 (16):1451-1461.
[vi] Packer M, Butler J, Filippatos G, et al. Cardiovascular and Renal Outcomes with Empagliflozin in Heart Failure. N Engl J Med. 2020;383:1413-1424.
[vii] British Heart Foundation UK Factsheet. July 2021. Available at: https://www.bhf.org.uk/what-we-do/our-research/heart-statistics. Accessed: March 2022.
[viii] American Heart Association. What is Heart Failure? Available at: https://www.heart.org/en/health-topics/heart-failure/what-is-heart-failure. Accessed: March 2022.
[ix] Conrad N et al. Temporal trends and patterns in heart failure incidence: a population-based study of 4 million individuals. Lancet 2018;391:572–80.
[x] Jones NR, Roalfe AK, Adoki I et al. Survival of patients with chronic heart failure in the community: a systematic review and meta-analysis. Eur J Heart Fail. 2019; 21:1306-1325.
[xi] British Heart Foundation. Heart failure: A Blueprint for Change Report.
https://www.bhf.org.uk/-/media/files/health-intelligence/heart-failure-a-blueprint-for-change.pdf?la=en&rev=f89dedb7c933452e8086cc063ff98c26&hash=98E3BEADD6A46974EF0AAD86044B8DC5314F4E2B  Accessed: March 2022.
[xii] American Heart Association. Ejection Fraction Heart Failure Measurement. Available at: https://www.heart.org/en/health-topics/heart-failure/diagnosing-heart-failure/ejection-fraction-heart-failure-measurement. Accessed: March 2022.
[xiii] Scantlebury DC and Borlaug BA. Why are women more likely than men to develop heart failure with preserved ejection fraction? Curr Opin Cardiol. 2011. Nov;26(6):562-8.
[xiv] Upadhya B, Kitzman DW. Heart failure with preserved ejection fraction: New approaches to diagnosis and management. Clin Cardiol. 2020; 43(2):145–55.
[xv] NHS. Diagnosis: Heart Failure. Available at: https://www.nhs.uk/conditions/heart-failure/diagnosis/ Accessed: March 2022.
[xvi] British Heart Foundation. The Untold Heartbreak report. Available at: https://www.bhf.org.uk/what-we-do/news-from-the-bhf/news-archive/2021/september/hospital-waiting-lists-heart-care-continue-rise. Accessed: March 2022.
[xvii] National Institute for Health and Care Excellence. Chronic heart failure in adults: diagnosis and management
NICE guideline [NG106] 12 September 2018. Available at: https://www.nice.org.uk/guidance/ng106
[xviii] Ronco C, McCullough P, Anker SD, et al. Cardio-renal syndromes: report from the consensus conference of the acute dialysis quality initiative. Eur Heart J. 2010;31(6):703–11.
[xix] Lazzeri C, Valente S, Tarquini R, et al. Cardiorenal syndrome caused by heart failure with preserved ejection fraction. Int J Nephrol. 2011;2011:634903.