Twitter Disco is Back!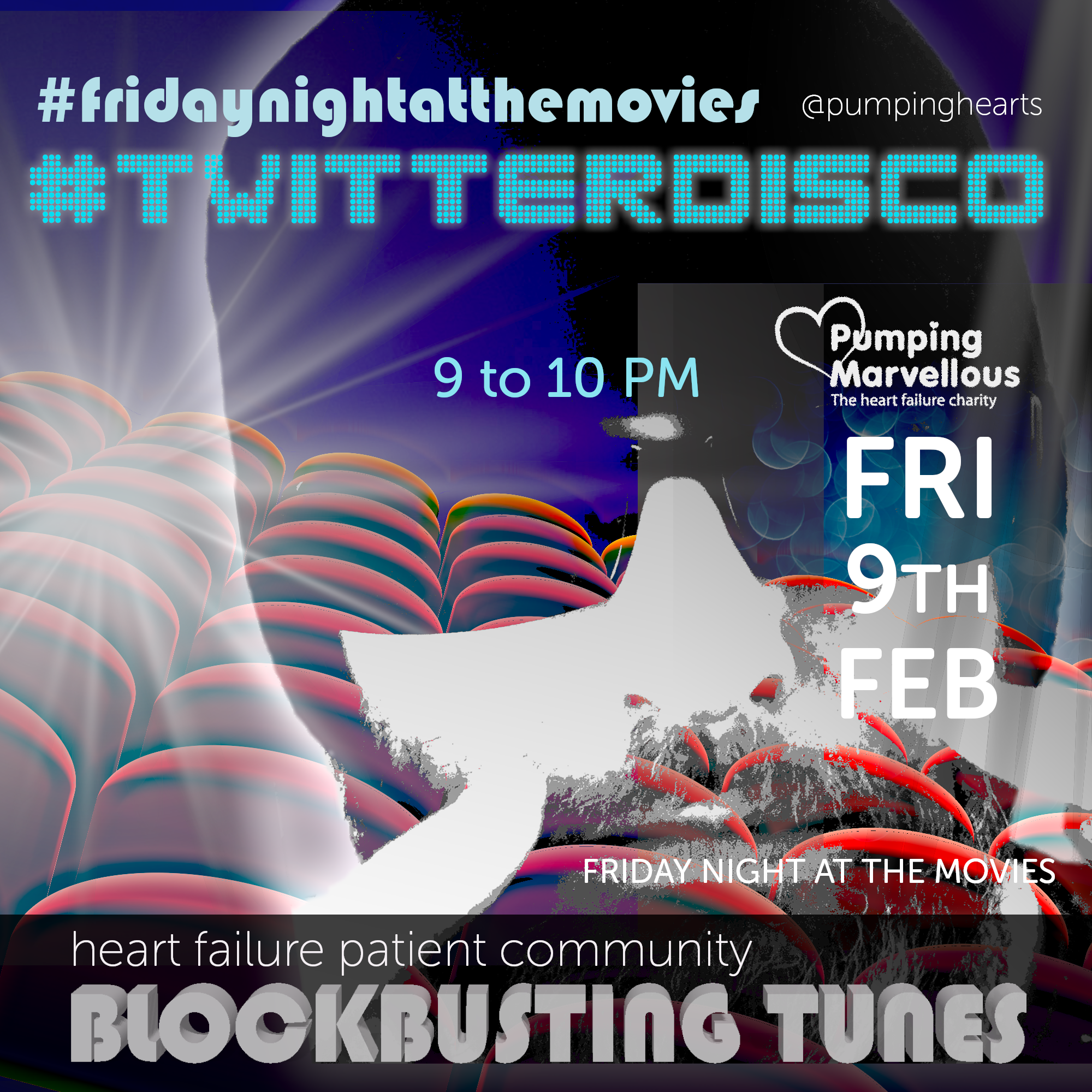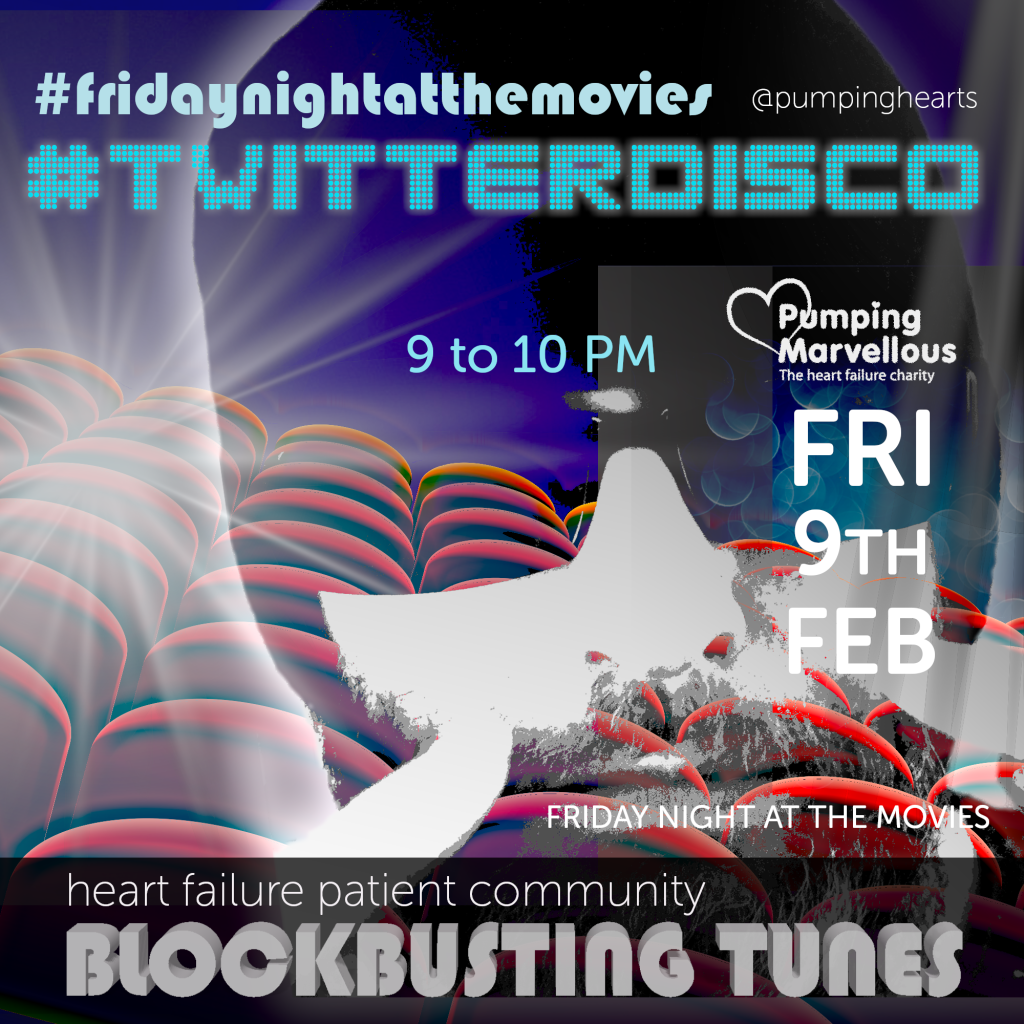 Twitter Disco is Back for Heart Month
The Pumping Marvellous Foundation are delighted and honored to host #TwitterDisco for Heart Month and we can't wait for you to join us on the dancefloor. Let your hair down, enjoy yourself and take some time out to refresh, revive and replenish at our movie-themed spectacular. It's time to get your groove on for FRIDAY NIGHT AT THE MOVIES discoteers! 9 to 10 pm Feb 9th.
Make a date with us and share your movie floorbangers with the hashtags #twitterdisco and #fridaynightatthemovies. See you there!
#Twitterdisco isn't a theory, idea or event. It is an experience
TO TAKE PART IN TWITTERDISCO:
– Put on your best disco gear for heart month.
– Follow the hashtag #Twitterdisco and this month's theme #FridayNightAtTheMovies.
– Listen along to Pumping Marvellous' (dj) setlist from 9 to 1opm and music from other discoteers.
– Tweet your youtube (or other video streaming site) movie soundtracks links along with a hello and the movie title they are from.
What Is Twitter Disco?
#TwitterDisco is a legendary monthly healthcare tweetchat to explore the benefits of music, looking at how it creates conversations and improves the wellbeing of participants. Since its conception, 'Twitter Disco' has grown to become a virtual health and social care disco that believes in 'caring for those that care', joining together once a month for a fresh opportunity to share music and make us all happy. There is no agenda…it is purely for enjoyment! A twitter community that supports, inspires and nurtures.
Click Tweet below to create your text and share this article.
Think 80s disco, glitter, sparkles and legwarmers and every other genre!
Twitterdisco is an 'open' team, which consists of ordinary citizens, sharing & connecting both online and offline. Some are doctors, nurses, carers, managers, volunteers, educators, community groups  and charities. Whilst all take their day jobs seriously, twitter disco is a light-hearted and fun way to meet with people from diverse backgrounds, is inclusive as anyone can join and spans all ages' abilities & professions.
Read the top or latest tweets here > #twitterdisco
CATCH UP on Pumping Marvellous' #TwitterDisco
#FridayNightAtTheMovies 09.02.2018
DJ Marvellous [Pumping Marvellous] had a  lot of fun hosting #TwitterDisco, and would like to thank everyone who joined us  and took part. We hope that you enjoyed it too. We shared, received, listened to and watched some incredible music from the movies for heart month, and still have bags more, so do keep your eyes peeled for #Twitterdisco, and its next hosts.
Big thanks for the opportunity. We have loved every minute. Thank you also goes to everyone who donated via Pumping Marvellous' justgiving page.
INTRO
Are you sitting comfortably?
Ready to put on your auditorium dancing shoes?
It's almost time to join us for a #TWITTERDISCO Friday Night at the Movies for #HeartMonth!!
CALL ME – BLONDIE – AMERICAN GIGOLO [View Tweet]
#TWITTERDISCO IS HERE! #DJMarvellous & the PM crew blast off with a stay-fresh chart topper from steamy American Gigilo by new wave pioneers @BlondieOfficial – No1 for #FridayNightAtTheMovies … Get your blockbusters ready to share for #heartmonth!
https://www.youtube.com/watch?v=i4DI71X6PeM

2. MEN IN BLACK – WILL SMITH – MEN IN BLACK [View Tweet]
Track No2 of #TwitterDisco for #FridayNightAtTheMovies is Will Smith, black suits and funky aliens. Sing along, and do the dance in your sparkly disco shoes. Everything is better with a dash of Will Smith. *LOVE* #heartmonth
3. STAYIN' ALIVE – BEE GEES – SATURDAY NIGHT FEVER [View Tweet]
No disco or #FridayNightAtTheMovies would be complete without the beat of this disco classic to keep our hearts pumping at number 3. We're staying alive. https://youtu.be/Fa9n7GirhsI What's your movie soundtrack?
4. DON'T YOU (FORGET ABOUT ME) – SIMPLE MINDS – THE BREAKFAST CLUB [View Tweet]
Let's take a #twitterdisco trip back to the eighties for the 1st of our 3 #80s movie classics with @simplemindscom' epic track from the #Breakfastclub – a #mustsee for every teenage heart. #heartmonth https://youtu.be/0HND8ywYcC0 #FridayNightAtTheMovies
5. TWIST AND SHOUT – THE BEATLES – FERRIS BUELLER'S DAY OFF [View Tweet]
At No5 of #TwitterDisco #FridayNightAtTheMovies is the legendary Sausage King of #Chicago himself, #FerrisBueller, twisting and shouting for his adoring parade fans, with the help of the #FabFour. (Don't forget our #MarvellousThree) https://youtu.be/tgd46QiHz4I #classic80s
https://youtu.be/tgd46QiHz4I
6. EVERYBODY NEEDS SOMEBODY (TO LOVE) – THE BLUES BROTHERS – THE BLUES BROTHERS [View Tweet]
Carrying on with another 80s classic #FridayNightAtTheMovies, Jake & Elwood need YOU, YOU, YOU for #TwitterDisco! Everybody needs somebody to love. Especially for #heartmonth. Which track do you need?
#heartfailure #bluesbrothers
7. THE WOO HOO SONG (UHU UHUHU SONG) – THE 5, 6, 7, 8's – KILL BILL [View Tweet]
#DJMarvellous lifts the tempo with a bit of Woo Hoo at no.7 with a perfect #TwitterDisco number from a film that featured an iconic, bright yellow #catsuit. #FridayNightAtTheMovies #heartmonth #heartfailure. #KillBill
5,6,7,8
https://youtu.be/aR6qvkDDBCg
8. I LIKE TO MOVE IT – SACHA BARON COHEN – MADAGASCAR [View Tweet]
First spin of the #Twitterdisco decks for #DJMarvellous and animated movie lovers. We like to move it move it. How about you? Move your body for #heartmonth #FridayNightAtTheMovies. #Madagascar
9. HAPPY – PHARRELL WILLIAMS – DESPICABLE ME 2 [View Tweet]
We hope you're all feeling like #happy #discoteers? Get ready to bounce around to this top tune from @Pharrell to lift our spirits this #heartmonth. #heartfailure #FridayNightAtTheMovies #Twitterdisco #motivation @DespicableMe https://youtu.be/Q-GLuydiMe4
What's your feel-good film?
10. TOGETHER IN ELECTRIC DREAMS – PHILIP OAKEY & GEORGIO MORODER – ELECTRIC DREAMS [View Tweet]
At number 10, here comes the #twitterdisco #electrospective. Electronica was a wonderful gift for #generationx and us cinema-goers. Did you have #ElectricDreams? #heartmonth #FridayNightAtTheMovies
https://youtu.be/PE1lzqJCeJ0
11. ONE WAY OR ANOTHER – BLONDIE – MEAN GIRLS [View Tweet]
Track 11: Whatever your goal, One Way or Another, you can't go far wrong with a bit of #TwitterDisco and @BlondieOfficial attitude, denim and a smile for #heartmonth. #BeMarvellous @BlondieOfficial
From the movie #MeanGirls https://youtu.be/_zBwRDEFMRY #FridayNightAtTheMovies
12. BORN TO BE WILD – STEPPENWOLF – EASY RIDER [View Tweet]
Once a touchstone movie for its generation – and now a cult classic – Easy Rider captured imaginations across the world welcoming a new era of independent filmmaking #FridayNightAtTheMovies. Not an easy dance in legwarmers at #Twitterdisco ?
https://youtu.be/egMWlD3fLJ8
13. YOU SEXY THING – HOT CHOCOLATE – THE FULL MONTY [View Tweet]
Another chance to sashay over to your fellow #Twitterdisco dancers, with 'You Sexy Thing' by Hot Chocolate on the disco decks, as featured in the Full Monty soundtrack. #FridayNightAtTheMovies https://youtu.be/8yA82CFvisw What are your tunes for #heartmonth?
14. NOBODY DOES IT BETTER – CARLY SIMON – THE SPY WHO LOVED ME [View Tweet]
Grab the nearest beating heart – a good one if you can – it's time for the last slow dance of our #Twitterdisco night setlist. We'd like to thank you all for joining in and sharing your #FridayNightAtTheMovies favourites for #heartmonth. https://youtu.be/7__rt0hRm8s
15. YOU'VE GOT A FRIEND IN ME – RANDY NEWMAN – TOY STORY [View Tweet]
Remember you know where we are. You've got a friend in #Twitterdisco. This final final #FridayNightAtTheMovies tune is for everyone managing their #heartfailure, where peer-to-peer support is so very important for #heartmonth. Slow down for smooch with us. https://youtu.be/LKTU4AarZ7A
https://youtu.be/LKTU4AarZ7A
Remember to subscribe to PMTV on YouTube, the heart failure community channel for the latest news on Parallel Hearts – the groundbreaking HF awareness project, and much more.