Paul's Marvellous Zambezi Blast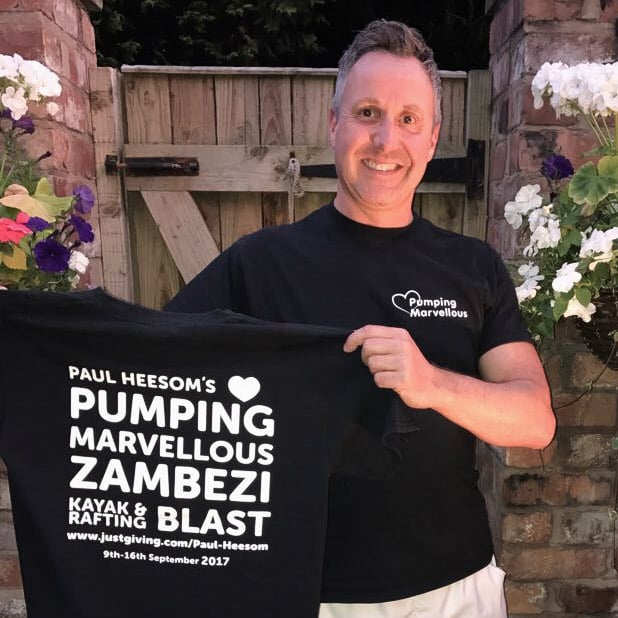 Read why Paul Heesom is braving crocodile-infested waters for our heart failure charity this month with a global adventure, the Pumping Marvellous Zambezi Blast
On September 9th, Paul Heesom begins a week-long trip to push his boundaries, on a once-in-a-lifetime adventure in aid of people living with heart failure across the UK, on his epic 200-mile trip along the world's wildest water run, the Zambezi Blast!
"Losing Dad to heart failure in January 2016 was a devastating blow to my family and myself. He was our cheeky chappy. The life and soul and would light up any room. I miss him terribly.

The Pumping Marvellous website and literature helped Mum and the family try and understand why he had been taken from us at a relatively young 75. Sharing thoughts with others helped immensely.
Giving something back to Pumping Marvellous as way of a thank you was something I felt I wanted to do, and in so doing raising awareness to heart failure.
Two years ago, as part of a 40 strong team, I scaled Mt Kilimanjaro and as a group we set a Guinness World Record for the Highest ever game of Rugby League. Dad was immensely proud of what myself and the team had managed to achieve. So with that feat in mind I set about finding a similar challenge to take me out of my comfort zone yet again. With the help of Global Adventures Ltd I found just that Challenge. On 9th September 2017 I will fly to Zambia in Southern Africa to take on the Mighty Zambezi River. Again as part of a team I will Kayak and raft 200 miles of raging white water rapids in the Batoka gorg.
Dad was a prolific traveller and Africa was one of his favourite destinations. I'm sure he would've love the thought of this adventure. Gigantic Grade 5 rapids, camping out under the stars in the African bush. Pods of Hippos and Crocodiles to circumnavigate. Along with all the other wild animals and creepy crawlies that Zambia has to throw at us.
Training for this challenge has been tough and arduous but it's all gone really well. I'm feeling ultra fit and chomping at the bit to get started at the foot of the great Victoria Falls.
A huge thankyou to The Pumping Marvellous family and all who have donated to my justgiving page so far, you've all been a massive help and support in bringing this challenge together. I won't let you down guys! ❤️"
There is still time to donate to Paul's epic challenge – Please visit his fundraising page to add your support and add messages of encouragement.
If you feel it might be time to take on your own challenge of a lifetime, please visit Global Adventure Challenges and ask to fundraise for the Pumping Marvellous Foundation, the UK's heart failur echarity.
Click here to find out more about heart failure.