Paul Heesom, Warrington Businessman, Awarded Fundraiser of the Year 2017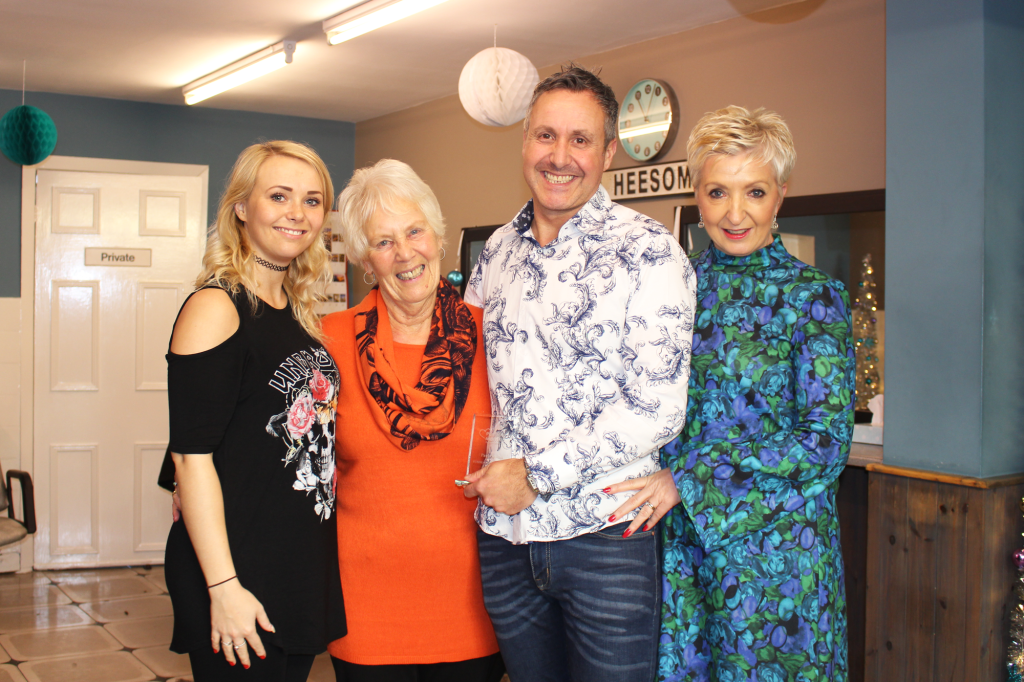 The Pumping Marvellous Foundation, the UK's Heart Failure Charity Recognise the Impact of One Man's Contribution to People Living with Heart Failure
Paul Heesom, Warrington Businessman, Awarded Fundraiser of the Year 2017
Warrington, Cheshire, Thursday 7th December 2017 – The Management Team from The Pumping Marvellous Foundation paid a surprise visit to Paul Heesom's Gents Hair Salon on Mersey Street, Warrington, to present him with their highly coveted 'Fundraiser of the Year' award for 2017.  The UK's Heart Failure Charity wanted to recognise the huge contribution Paul has made to the UK's heart failure community during 2017 with this personal gesture.
Between 9th and 16th September 2017, Paul braved the crocodile-infested waters of the mighty Zambezi River in aid of people living with heart failure across the UK.  The week-long epic adventure pushed Paul to his limits kayaking and rafting gigantic grade 5 raging white water rapids and circumnavigating pods of hippos and crocodiles on his 200-mile trip down Africa's fourth longest river.
This once-in-a-lifetime experience was Paul's way of giving something back to a charity which gave support to his family following the loss of his father, Roy, in January 2016.
"Losing Dad to heart failure was a devastating blow to my family and myself.  The Pumping Marvellous website and literature helped Mum and the family try and understand why he had been taken from us at a relatively young age.  Sharing thoughts with others helped immensely.  Giving something back to Pumping Marvellous as a way of a thank you was something I felt I wanted to do and in doing so, raising awareness of heart failure."
Indeed, Paul has not been the only member of his family to support Pumping Marvellous during 2017.  His Mum, Ann, along with her friend, Kathy, held an additional fundraising social event with their Best Western Line Dancers group in May.
"What a hoot we had!  It was a fabulous night.  We were blown away by people's generosity and they really bought into Pumping Marvellous."
In fact, Paul's selflessness and truly inspiring nature was also recognised at The Warrington Guardian Inspiration Awards in November.
Nick Hartshorne-Evans, Founder and CEO of The Pumping Marvellous Foundation, the UK's Heart Failure Charity said:
"Paul's fundraising endeavours have enabled us to supply NHS teams across the North West of England with vital patient information.  His sterling efforts will ensure that patients are supported on their journey with this life-changing condition.  It was a huge honour to meet Paul in person and he is a true Pumping Marvellous Super Hero."
If you would like to support Paul and The Pumping Marvellous Foundation, you can still donate by visiting https://www.justgiving.com/fundraising/paul-heesom
Ends – For more information please contact The Pumping Marvellous Foundation +44 (0) 1772 796542 or +44 (0) 7854 407050 hearts@pumpingmarvellous.org
Notes for Editors
The Pumping Marvellous Foundation (PMF) is the UK's patient led Heart Failure charity. It was founded by a heart failure patient whose experiences whilst rehabilitating have shaped the Foundation's goals and principles of a patient-centric charity focused on improved patient outcomes.
Heart Failure affects 900,000 people in the UK – https://www.nice.org.uk/guidance/cg108/chapter/Introduction
Heart failure is debilitating and outcomes are poor: 5 year survival rate is worse than breast or prostate cancer – https://circoutcomes.ahajournals.org/content/circcvoq/early/2010/10/05/CIRCOUTCOMES.110.957571.full.pdf
30-40% of those diagnosed with heart failure die within the first year – https://heart.bmj.com/content/83/5/505.long
Heart failure is a major cost to the NHS. It is a leading cause of hospital admission in over 65s – https://www.nice.org.uk/guidance/cg187