Infections Down With Antibacterial Envelope for ICD/CRT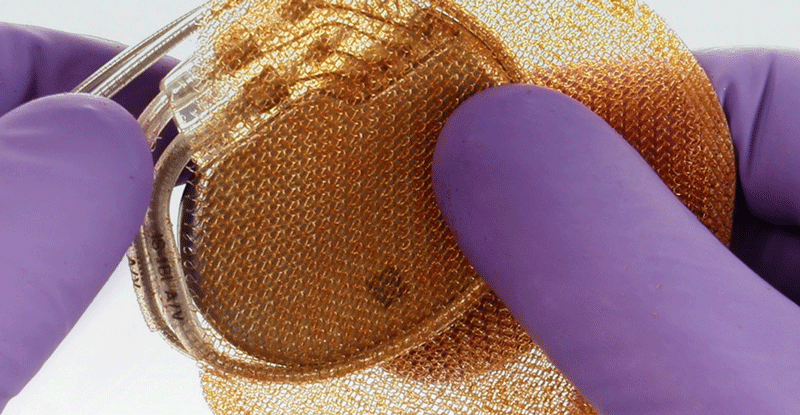 Clinical use of antibacterial envelope mesh cuts infection rate for ICD/CRT implants
The TYRX™ Absorbable Antibacterial Envelope and the TYRX™Neuro Absorbable Antibacterial Envelope are the first commercially available implantable medical devices designed to stabilize Cardiac Implantable Devices  [CRTs and ICDs] and Implantable Neurostimulators [INSs] and to help reduce their infection.
Medtronic PLC has signed up more than 140 U.S. hospitals and clinics in a program that aims to cut infection rates in heart devices using its innovative dissolvable surgical antibacterial envelopes and rebates. Medtronic are confident in the Tyrx envelope's ability to reduce infection rates and are signing "risk sharing" agreements with health care providers [in the US] that say the company will pay a substantial rebate toward the high cost of removing an infected Medtronic device and implanting a new one, if a Tyrx envelope was used in the original surgery and an infection sets in anyway.
Infection rates for pacemakers, implantable defibrillators and cardiac resynchronization therapy (CRT) devices vary. But in general, it is purported that more complex devices like CRTs are more prone to infections, and so are replacement devices, which are placed in the fibrous "capsule" of scarlike tissue that formed around the original device, where it is more difficult to fight infection.
A contemporary absorbable version is currently under evaluation in the prospective World-Wide Randomized Antibiotic Envelope Infection Prevention Trial (WRAP-IT) randomized trial [enrolling now by invitation], with a projected enrollment of more than 7700 patients receiving ICD or CRT upgrades or replacements.
Source: Antibacterial Envelope Is Associated With Low Infection Rates After Implantable Cardioverter-Defibrillator and Cardiac Resynchronization Therapy Device Replacement
Charles A. Henrikson, M. Rizwan Sohail, Helbert Acosta, Eric E. Johnson, Lawrence Rosenthal, Roman Pachulski, Dan Dan, Walter Paladino, Farhat S. Khairallah, Kent Gleed, Ibrahim Hanna, Alan Cheng, Daniel R. Lexcen, Grant R. Simons
JACC: Clinical Electrophysiology May 2017, 388; DOI: 10.1016/j.jacep.2017.02.016 bit.ly/2rivA2r