IOW Challenge ARVC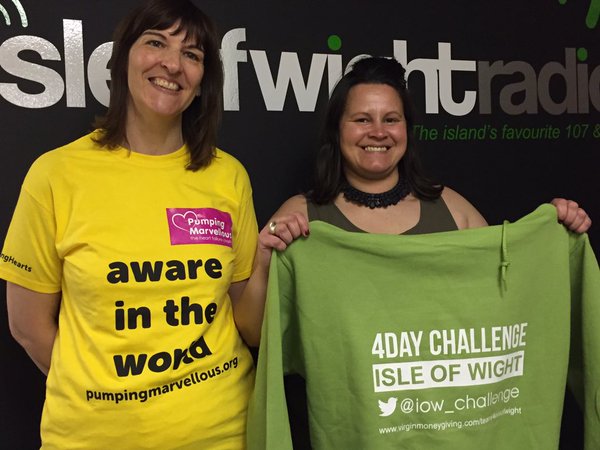 ARVC patient Dana Edkins and her HF Nurse take on the 4-Day IOW Challenge Island Escape to raise awareness on Heart Failure Awareness Day
GeorginaGeorgina Newnham, a Community Heart Failure Nurse Specialist on the Island is getting ready to support one of her patient's on their ambitious IOW challenge to raise money and awareness of heart failure.
Dana Edkins, a heart patient from Newport, has set herself a 4 Day challenge to see how far she can travel from the Isle of Wight without food or money. Dana decided to set herself the IOW challenge after finding out that she has a rare genetic heart condition which has changed her life dramatically. As the condition attacks the heart muscle, Dana is in the stages of heart failure, for which there is no cure, and in time she will need a heart transplant and palliative care.
Speaking about her challenge, Dana said: "I am 40 this year and a prolific fundraiser for the British Heart Foundation, so I came up with the crazy idea of seeing how far we can get from IOW with no money or food, just a back-pack and sleeping bag, relying on the generosity of travel companies, hotels, restaurants and the general public to feed and shelter us on our journey. Georgina, my heart failure nurse will be with me and she will have a mobile phone, in case of an emergency but that's about it."
Heart failure is a condition caused by the heart failing to pump enough blood around the body at the right pressure. It usually occurs because the heart muscle has become too weak or stiff to work properly. The symptoms can vary from person to person but the main symptoms are breathlessness, extreme tiredness and ankle swelling, which may extend up the legs. However, these symptoms may be caused by conditions other than heart failure, and sometimes there may be more than one cause for them.
Speaking about the condition, Georgina Newnham, said: "Whilst most patients with heart failure have previously had a heart attack (Ischaemic heart disease – IHD), there are many patients who do not have IHD. Like Dana, there are a number of patients who are much younger living with heart failure. As we grow older, so the incidence of heart failure increases."
Dana and Georgina will be accompanied by a representative from YMCA Young Carers and JDRF Juvenile Diabeties Charity. The group will be setting off at 10am from the British Heart Foundation Shop in Newport on Friday 6th May which also happens to be Heart Failure Awareness Day in the UK. Speaking about her condition, Dana said: "I have had to change the way I live my life since I was diagnosed. I can't do everything I used to do, my mobility is restricted and I get fatigue and breathless. Before I was diagnosed I didn't know much about heart failure, I guess I didn't feel that I needed to, which is why I want to get awareness out there of what to look out for and the help and support available. This is definitely my biggest challenge yet, but no doubt my last for a while as I'm getting very tired. It will be tough but worthwhile."
Anyone wishing to support Dana's IOW challenge can donate via www.virginmoneygiving.com/team/4isleofwight . You can also follow Dana on Twitter @iow_challange and follow progress via Pumping Marvellous twitter feed.
A celebration party is being held on their return on Friday 13th May, 7pm, at the Castle Inn, Newport where there will be a raffle. Tickets can be purchased on the night or by contacting Dana direct.
Photo: DANA Edkins with her Heart Failure Nurse Georgina at Isle of Wight Radio.