Clinical Management of Heart Failure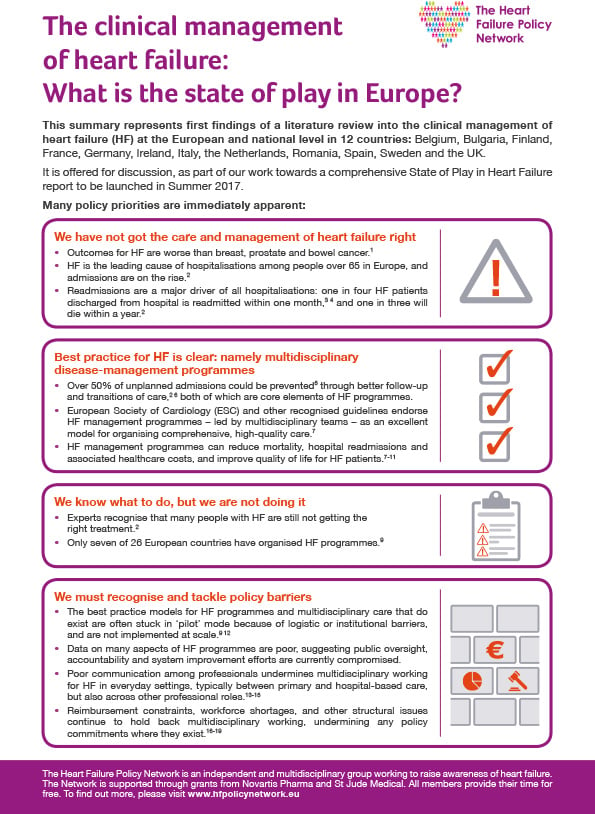 Clinical Management of Heart Failure in Europe
A new report out focussing on the state of play in Europe around the clinical management of heart failure has just been published by the Heart Failure Policy Network. The group is an independent, multidisciplinary group working to raise awareness of heart failure across Europe.
It identifies many policy priorities across the continent of Europe. The good, the bad and the ugly. The state of play examining the clinical management of heart failure is important. People diagnosed with heart failure deserve the very best treatments. This is vital to ensure that people pursue the very best quality of life. This can be coupled with determined self-management.
The crux of the report clearly identifies a simple theme. We know what to do but we just aren't doing it. This document will provide stakeholders in heart failure with a clear set of tools. Tools that can be taken to the few who can change policy. This will make life better for people and their families managing their heart failure.
These policy documents are very useful to help stakeholders create conversations with policy makers and politicians at a national level. The question for the Pumping Marvellous Foundation is "when do we see the action". The challenge is everybody is producing great content but when do we put that content into gear and drive the agenda.
Heart failure seems to have a very fractionated infrastructure across Europe where connecting the stakeholders to documents like this and working as one voice enables change. We could learn a lot from the cancer movement around pooling action and getting results for the benefit of the patient and their families.
Read the report click here
You can view the Heart Failure Policy Network here to see other work they do link to website
To find out more about what we do please click here for further information