Alice Fearn and Jai McDowall – Music Will Live in Our Hearts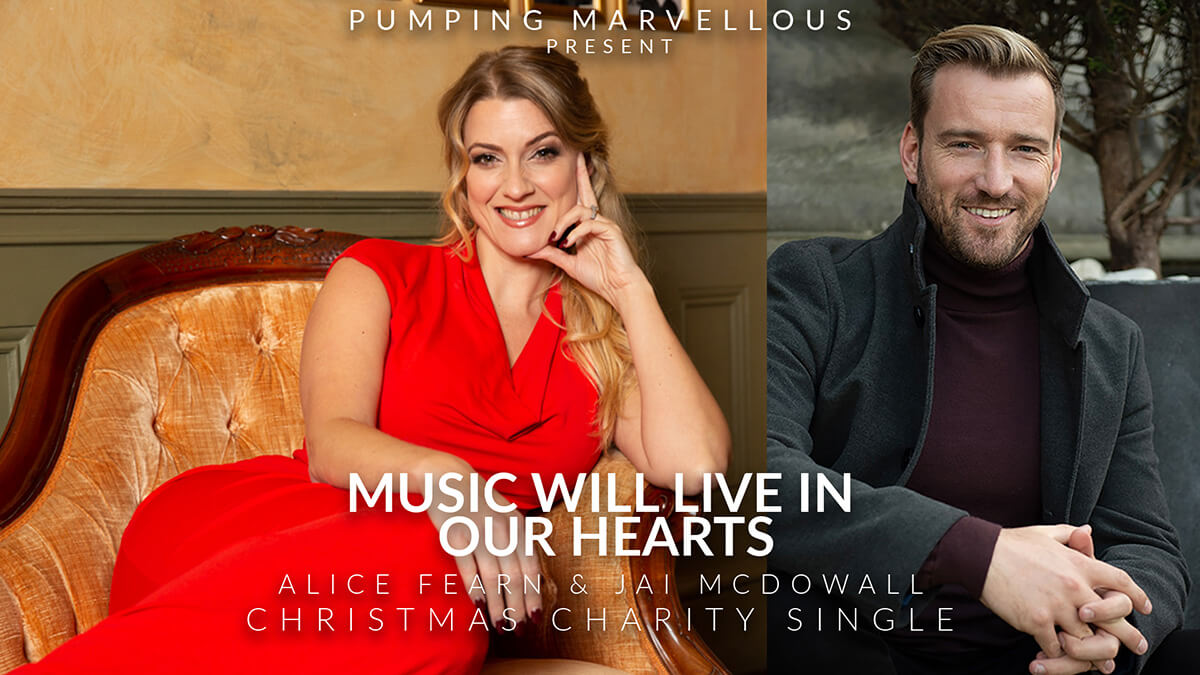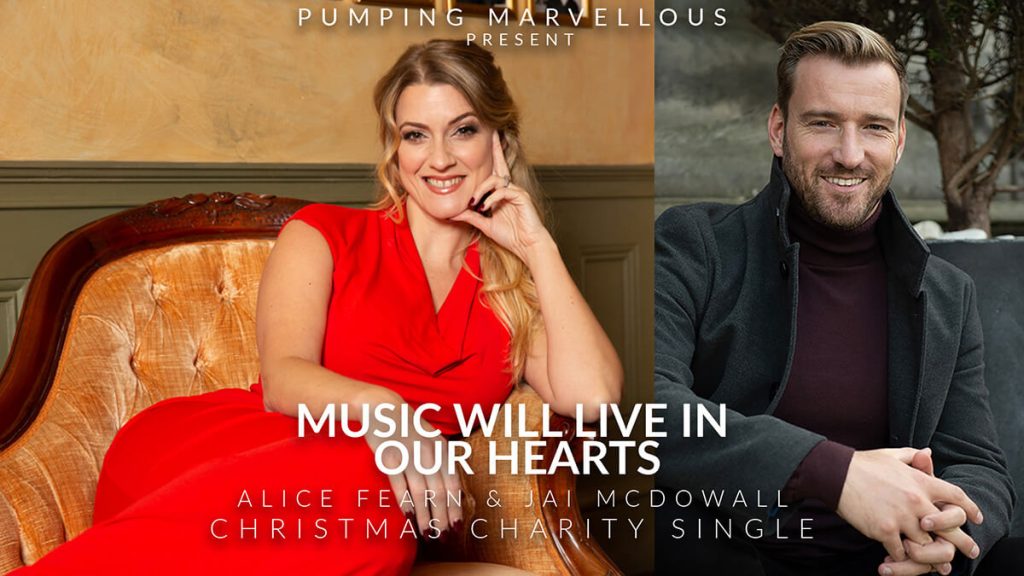 West End Stars join forces to raise awareness of heart failure
Stars' charity single reassures people with heart failure that there is hope
Stars and musicians from the West End stage, including Alice Fearn and Jai Mcdowall, have released a Christmas Charity single to generate awareness of heart failure, along with raising funds for the Pumping Marvellous Foundation, the UK's only patient-led heart failure charity.
'Music will live in our Hearts' was written by award-winning musical theatre composer and songwriter Pippa Cleary. Her credits include The Secret Diary of Adrian Mole Aged 13¾, West End and the winner of the Times Christmas carol competition. The single also has lyrics by Mark Nathan.
The song is led by Alice Fearn who starred as Elphaba in Wicked in the West End and is currently one of the lead characters, Beverly Bass in the cast of Come From Away. The song also features the winner of Britain's Got Talent, Jai McDowall.
The song, inspired by a film of a patient living with heart failure, aims to challenge the misconceptions about heart failure and reassure those diagnosed with it about the reality of living with the condition after diagnosis.
The song also features a large choir of West End performers and musicians, who donated their time to appear on the single, officially released on Monday 7th December on –
Amazon Music – https://amzn.to/36PppGi
iTunes – https://apple.co/39MiLT3
Spotify – https://spoti.fi/39JviGZ
YouTube – https://youtu.be/bFOzpn1LqKk
In a year when so much focus has been around Covid-19, heart failure patients have reported being concerned around access to healthcare and missed appointments. The pandemic has caused concern for so many, manifesting itself around the perceived lack of support for those living with heart failure.
Nick Hartshorne-Evans, CEO of Pumping Marvellous, said: "We have a community of over 1,000,000 heart failure patients all over the UK who are living with heart failure. This year has been so tough, for so many, living with the condition. Our goal as a charity is to deliver hope to its recipients and help them to live a full life with improved intervention and better outcomes.
"It has also been a catastrophic year for musical theatre in the West End. The fact that people have the inclination and the energy to support less fortunate people is amazing. We are humbled and extremely grateful to everyone who has got involved in making this happen."
www.pumpingmarvellous.org offers information and lifestyle advice for those diagnosed and living with Heart Failure including young people and children.
-ENDS-
Music: Pippa Cleary
Lyrics: Mark Nathan
Orchestration: Simon Nathan
Lead vocals: Alice Fearn & Jai Macdowell
Choir & Other Soloists 
Flora Spencer-Longhurst, Laura Barnard, Lee Van Geeleen, Adam Hepworth, Sam Oladeinde, Stephenson Ardern-Sodje, Meesha Turner, Natalie Dunne, Nick Lautman, Pippa Cleary, Ellie Anne-Lowe.
Instrumentalists
Woodwinds – Hannah Lawrence
Brass – Luke Davies
Guitar – Curtis Volp
Drums & Percussion – Matt Whittington
Harp – Catrin Meek
Keys – Pippa Cleary
Violins – Clare Taylor
Cellos – Dave Hornberger
Musical Direction
Jordan Clark & Pippa Cleary
Produced By 
Jake Waby
Mixing & Mastering
Niall John Acott
Notes to editors:
The Pumping Marvellous Foundation is the UK's patient-led heart failure charity. It was founded by a heart failure patient, Nick Hartshorne-Evans, whose experiences whilst rehabilitating has shaped the Foundation's goals and principles of a patient-centric charity focused on improved patient outcomes. The Pumping Marvellous Foundation runs the largest online conversations in heart failure for patients, distributes patient information to NHS teams. It advocates for improved outcomes partnering with the NHS in England and Scotland along with NICE. The voice of the foundation also regularly reaches out to a global audience.
For more background on Pumping Marvellous and its recent report on late diagnosis of Heart Failure and the effects please read more
For more information or to arrange an interview please contact Keeley Southworth keeleysouthworth@icloud.com or 07511 167 907