MPs more interested in potholes than heart failure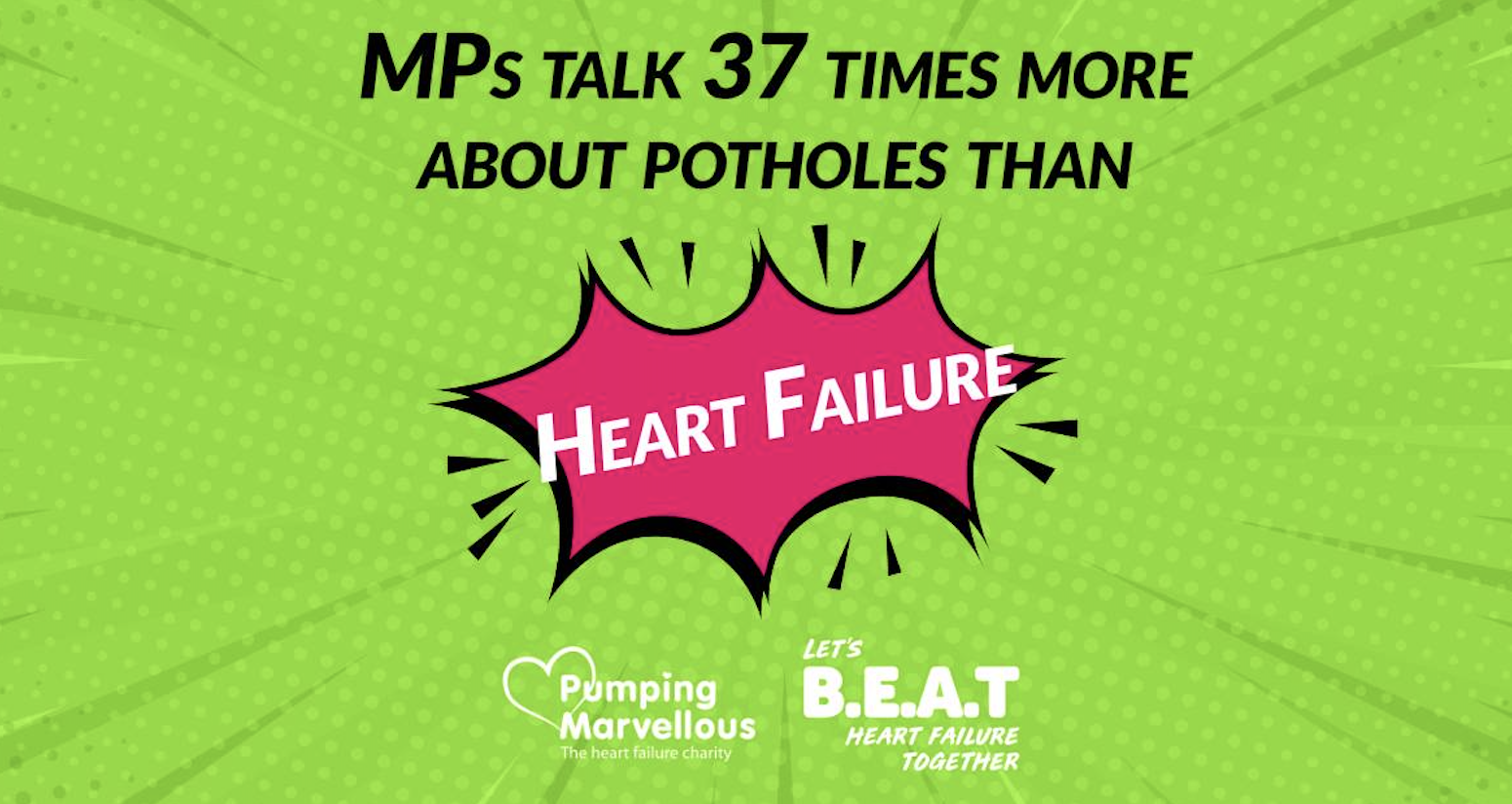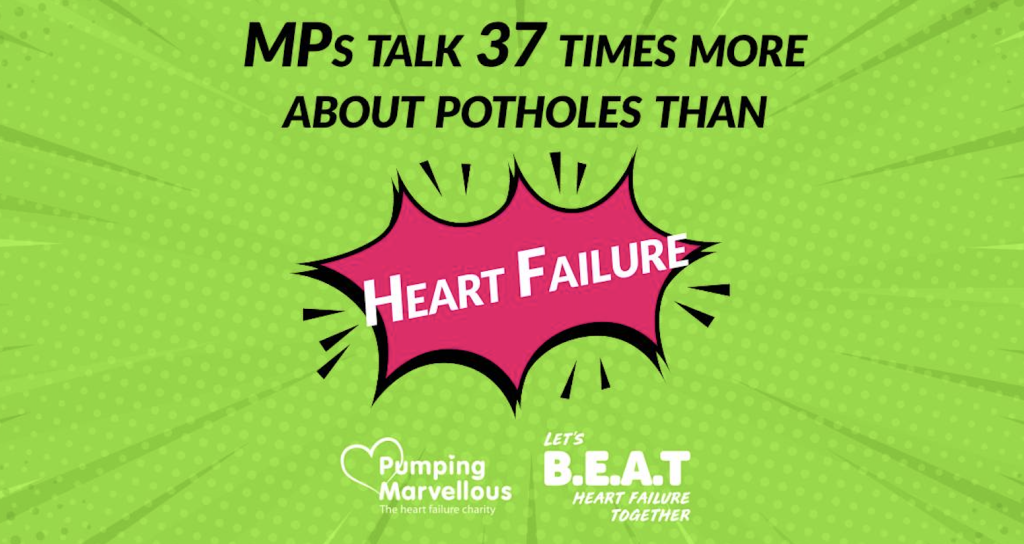 News release – Pumping Marvellous Foundation
MPs more interested in potholes than heart failure
MPs talked about potholes in our roads 37 times more often than they did about a serious heart disease that affects a million Brits, new research has revealed.
The new peer-reviewed study, being published in the open access journal, Open Heart, published by BMJ, looked at how often heart failure was discussed in parliament. It found that the condition – the only cardiac condition increasing in prevalence in the UK – by 200,000 new cases every year – struggled for mentions by MPs when compared to the 'trivial' issue of bumps in the road.
"No wonder so many people are unaware of the symptoms and treatments for heart failure, if even our MPs would rather talk about an issue that leads to punctured tyres, than one that turns people lives upside down" said Nick Hartshorne-Evans, the Chief Executive and Founder of Pumping Marvellous, the UK's only heart failure charity.
And it turns out that the researchers only looked at the mentions of potholes after a tongue-in-cheek suggestion. He went on to say: "We have long suspected that HF doesn't get the attention it deserves based on how common and serious it is, but to be overshadowed by such a trivial issue as potholes was sad. When we jokingly wondered if it would be less common than potholes, we were genuinely shocked at the results. We need to raise awareness of this serious – but treatable – condition."
The study also found that heart failure is talked about disproportionately less than other illnesses such as cancer and dementia, both in parliament and in common discourse such as news and even fiction.
Co-author of the report and Cardiologist Dr Rajiv Sankaranarayanan added:
"Almost 1 million people in the UK are living with heart failure, yet our policy makers, the people who drive the health agenda in this country would rather discuss minor bumps in the road. It's little wonder I see so many patients who are completely unaware of what heart failure is, when it gets so little attention."
Heart failure is serious cardiac condition, but if diagnosed quickly it can be well managed. Pumping Marvellous are trying to raise awareness of the symptoms of heart failure, to improve diagnosis.
The research was undertaken as part of a project examining the way in which heart failure is discussed in the UK. Academics from the University of Lancaster analysed billions of words of published works, including the entire Hansard record – the official record of proceedings in parliament – to assess the frequency and context of discussions of heart failure.
The study has been accepted after peer review and will be published in Open Heart.
ENDS
Link to BMJ Open Heart Publication – Language matters: representations of 'heart failure' in English discourse—a large-scale linguistic study.
NOTES TO EDITORS
Nick Hartshorne-Evans, CE and Founder of Pumping Marvellous will be available for interviews and further comment
Pumping Marvellous is the UK's only heart failure charity
This research has been peer reviewed, and was accepted for publication in the BMJ journal Open Heart in April 2022
When compared to a different, non-medical issue of arguably lower importance (in terms of potential threat to human life expectancy and quality of life), potholes in UK roads and pavements, 'heart failure' is discussed much less.
The frequency of use of 'heart failure' was, for most of the period 1945 to 2021, lower than the frequency of talk about 'pothole/s', particularly over the last ten years when 'pothole/s' peaked in terms of frequency at:

24 times pmw (per million words) in 2018 (about 37 times more often than 'heart failure' at 0.28 times pmw);
61 times pmw in 2014 (about 16 times more often than 'heart failure' at 0.42 times pmw); and
74 times pmw in 2010 (about 18 times more often than 'heart failure' at 0.32 times pmw).
Occasionally prior to 2010 talk about 'heart failure' rose slightly above talk about 'pothole/s', most recently in 2007 when 'heart failure' peaked in use at 0.90 times pmw, about three times as often as 'pothole/s' (0.36 times pmw).

Language Matters -Representations of 'heart failure' in English discourse: a large-scale linguistic study – Jane Demmen, Nick Hartshorne-Evans, Elena Semino, Rajiv Sankaranarayanan
The study was commissioned by Pumping Marvellous
The study was conducted by linguists at the ESRC Centre for Corpus Approaches to Social Science, a research centre at Lancaster University which specialises in applying computer-assisted frequency-based statistical methods to the study of language in social life using large bodies of text.
Use of the terms 'heart failure' and 'cancer' was investigated in the following two data sets, or 'corpora':

The Oxford English Corpus (OEC): 2,073,319,589 words of contemporary (21st century) English from the UK, US, Ireland, Australia, New Zealand, the Caribbean, Canada, India, Singapore, and South Africa, compiled by Oxford Languages (Oxford University Press).
The Hansard Corpus (HC): Hansard reports of parliamentary debates in UK House of Commons & Lords from 1 January 1945 up to and including 25 February 2021, accessed through Hansard at Huddersfield, a publicly-accessible interface and search tool provided by the University of Huddersfield (https://hansard.hud.ac.uk/site/site.php)19 . More recent debates were accessed through the UK Parliament Hansard website (hansard.parliament.uk)
About Heart Failure
A 2008 Health Foundation report calculated that there are 10,000 deaths every year as a result of HF, and that it costs the NHS approximately 1–2% of its annual budget (Bridging the quality gap: Heart failure March 2010)
The National Institute for Cardiovascular Outcomes Research estimates that Heart failure is a large burden on the NHS, accounting for 1 million bed days per year, 2% of the NHS total, and 5% of all emergency admissions to hospital
Heart Failure costs the NHS approximately £2 billion per year, largely as a result of unplanned hospitalistions according to the University of Glasgow
About potholes