Microneedle Patches for Flu Immunisation Phase I Trial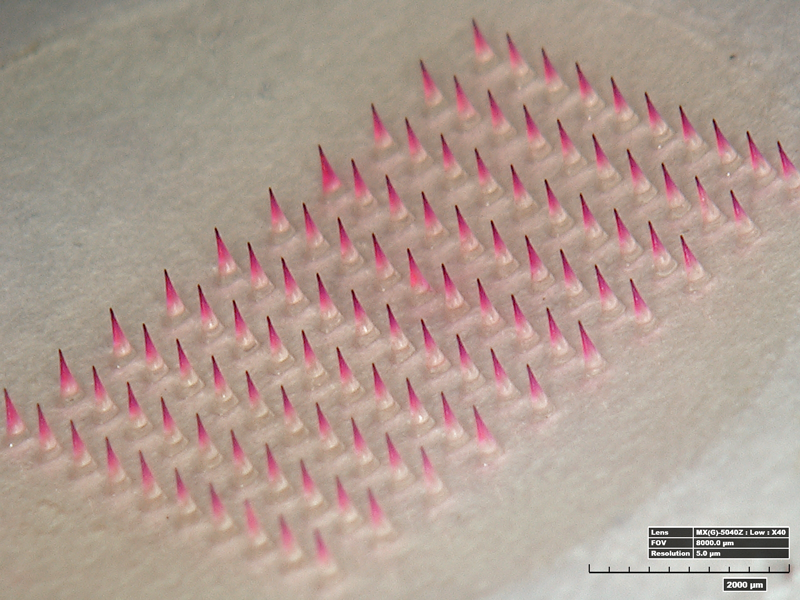 Microneedle patches provide an alternative to conventional needle-and-syringe immunisation, and potentially offer improved immunogenicity, simplicity, cost-effectiveness, acceptability, and safety. In a recent Phase I trial, safety, immunogenicity, and acceptability of the first-in-man study on single, dissolvable microneedle patch vaccination against influenza was evaluated. The influenza vaccine can offer the best available protection against the flu virus, from which some people (including heart failure patients) can find recovery particularly difficult, and in some cases it can lead to serious complications. [See NHS Choices website]
Lead researcher Prof Mark Prausnitz, who is also part of a company that wants to license the technology, said: "If you zoom in under the microscope what you'll see are microscopically small needles. They puncture painlessly into the skin."
His team tested the microneedle patches alongside flu injections. Some of the 100 volunteers got the regular shot in the arm, while others applied the microneedle patch to their wrist for 20 minutes.
It offers the same protection as a regular vaccine, but without pain, according to its developers from Emory University and the Georgia Institute of Technology.
Hear Nadine Rouphael and Mark Prausnitz discussing the findings from their phase 1 trial that uses a dissolvable microneedle patch to deliver an influenza vaccine to patients on The Lancet's podcast.
Read the full study as published in The Lancet > The safety, immunogenicity, and acceptability of inactivated influenza vaccine delivered by microneedle patch (TIV-MNP 2015): a randomised, partly blinded, placebo-controlled, phase 1 trial
Read more via BBC Health > Painless flu jab patch for people scared of injections